Cruise ship cabin virtual tours
On the strength of our working relationship with P&O Cruises we were invited by Cunard Line, a sister brand of P&O Cruises, to shoot their range of luxury stateroom accommodation across their famous fleet of ships (Queen Mary 2, Queen Elizabeth and Queen Victoria) from inside staterooms, all the way to the most luxurious Suites at sea.
What we deliver for Cunard Line
A virtual tour fit for a Queen (or three!)
Uniquely branded.
Built-in navigation.
Welcome/instructions screen.
Full screen option.
Built-in text to describe what user is seeing.
Responsive to tablet (as the Cunard website hasn't yet gone responsive).
Integrated Google Analytics tracking.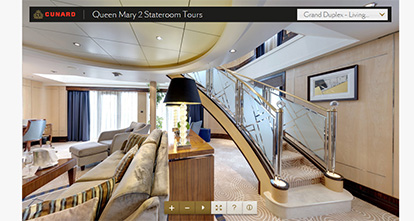 Easy integration with website CMS
24/7 fully hosted tour.
All Cunard Virtual Tour content is hosted on VTServer™, easily and dynamically updatable.
The Cunard Web Development team need only create a simple iFrame to call in their hosted tour.
Cunard's Content Team have flexibility when creating new pages.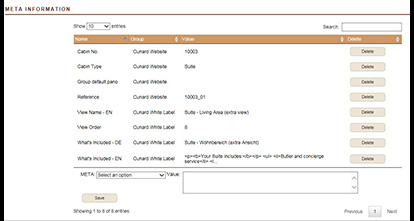 White label tours for travel agents
Cunard agents worldwide can utilise our Virtual Tours in their own agency websites with one line of code.
Agent customisation (see https://tours.cunard.co.uk/agents).
Multi language capability supporting Cunard's international markets including English, German and Japanese.
Integrated Google Analytics tracking.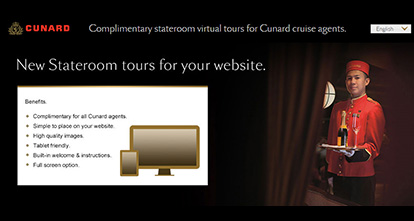 Other projects with Cunard Line
Cunard Line is steeped in history and in 2015 celebrated their 175th anniversary, in fact 2015 sees a number of events across the year to celebrate this milestone in the company's history. One of the key events was all three Queens visiting their spiritual home of Liverpool where Cunard began 175 years ago and where the Cunard building still stands proud.
Image tagging for Facebook & Twitter
Cunard, like P&O Cruises before them, wanted their guests to remember this momentous day so we were asked to shoot hi-res images of every side of the three Queens so that guests on board could zoom in and tag themselves on Facebook and Twitter. 100+ guests on the day tagged themselves promoting the event to a wide network of friends and family.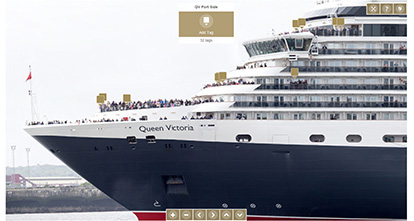 Single Shot 360° Views from Liverpool
1.3 million people came out on May 25th in Liverpool to see the Three Queens on the Mersey. Cunard wanted to capture some of the buzz of the day with 360° images, we used our new single shot full spherical systems to capture special moments in time. Here we have the Red Arrows over the three Queens, an impossible image to capture in full 360° with conventional systems.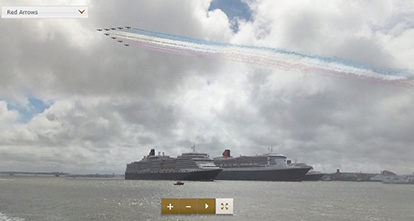 Full Motion 360° Video
With YouTube and now Facebook supporting 360° video, Cunard wanted to be among the first brands to use this new technique. Shoots are underway on the three Queens to explore this exciting new interactive video. Bringing together the best of a conventional video with the immersive possibilities of 360° images this engaging technology promises a whole new insight into the superb Cunard ships and the iconic ports they visit.
What our client says...
"This is a fantastic opportunity for Cunard to show our future passengers and guests the exceptional standard of accommodation we offer on board our three Queens."