Cruise ship virtual tours
We're a long-term partner of P&O Cruises. We've been delivering class-leading virtual tours and other projects for Britain's favourite cruise line since 2003. The brief was to give potential cruise passengers a look around one of P&O Cruises modern cruise ships to see what's on offer (without the need to visit Southampton) to help sway people's decision to book a cruise for the first time. First time cruisers are very important to P&O Cruises as many will turn into loyal passengers for years to come.
Delivering a best-in-class cruise ship virtual tour
A truly unique virtual tour
Uniquely branded.
Built-in navigation.
Welcome/instructions screen.
Full screen option.
Built-in text to describe what user is seeing.
Responsive to mobile.
Integrated Google Analytics tracking.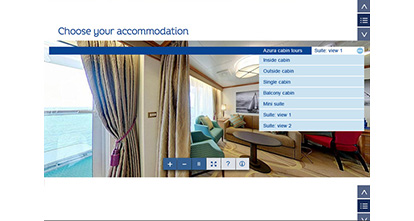 Easy integration with content management
All P&O Virtual Tours are hosted by Panoramic Imaging on our enterprise-class VTServer™ platform
Web Development teams need only create a simple iFrame to call in their hosted tour
Content Team have full flexibility when creating new pages.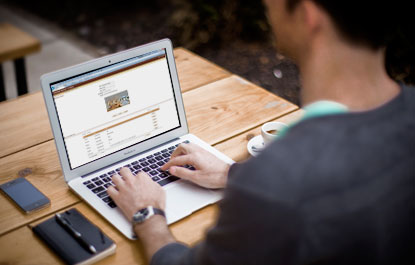 Other projects with P&O Cruises
P&O Cruises have had a few high profile events in their time, two of which we were very proud to be invited to – their 175th Anniversary celebrations and most recently the launch of their newest cruise ship Britannia.
Image tagging for Facebook & Twitter
For the 175th Anniversary back in 2012 we floated (excuse the pun) the idea of shooting hi-res imagery of the P&O Cruises fleet of cruise ships so that lucky passengers out on deck could zoom in and tag themselves (via a bespoke piece of tagging software) on Facebook and/or Twitter. This needed a bit of organisation on both sides as we needed to position photographers either side of Southampton water to shoot each side of the ships as they sailed past. The results were spectacular and nearly 300 people per ship tagged themselves using the images we produced and hosted.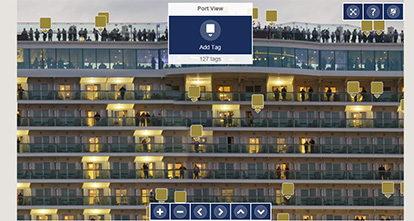 Image tagging for Facebook & Twitter
One the strength of the 175th Anniversary shoot, P&O Cruises invited us back in 2015 to recreate the same success we had back in 2012, only this time for their newest cruise ship Britannia – the largest cruise ship built for British cruise passengers. Three years is a long time in the photography world, so we were able to bring along some exciting new kit. Spectacular results again with 200+ passengers tagging themselves on the hi-res imagery taken.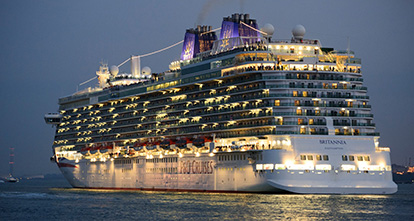 What our client says...
"Our range of tours enable people to visualise what life on board a modern cruise ship is really like. A fantastic tool for those thinking about booking their first cruise with us."